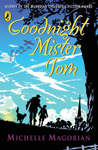 Goodnight Mister Tom by Michelle Magorian
My rating: 5 of 5 stars
I first read this book when I was 13. I connected with Will. I knew what a belt felt like as a punishment. I read the first chapter in my English lesson and went home and read the book until I finished it at 3/4am. I looked back fondly on the boom as I had wept buckets whilst reading it and thought I should read it again.
Reading it with a mother's perspective, I have sobbed in every chapter. I understand Tom's need to nurture and protect Will. I understand Will's nervousness. I adore this book, even with its heartbreaking and horrifying moments. This book is definitely a favourite.